GEM TREE SUPPLIES
Tumbled Stones, including real Opal, Imperial Topaz, Ruby & Emerald!
Tarnish-resistant 20, 24, & 28 gauge Craft Wire in gold or silver color.
Gold Plated, Silver Plated and Nickel Plated Leaves

TUMBLED STONES
All but Apatite, Pink Tourmaline- 1 oz. Packages
Small
approx. 5-7mm,
125-300 pcs/ounce
Medium
approx. 7-15mm,
35-80 pcs/ounce
Please check our online store HERE for availability
| Stone | Price | Small | Medium |
| --- | --- | --- | --- |
| AMAZONITE | $2 | | N/A |
| AMETHYST - light-medium | $3 | | N/A |
| AMETHYST - medium-dark | $4 | | |
| AMETRINE | $5 | N/A | |
| APACHE TEARS | $2 | | |
| APATITE - neon blue-green (½ oz) | $10 | | |
| AQUAMARINE | $6 | | |
| AVENTURINE | $2 | | |
| BLOODSTONE | $2 | | N/A |
| BLUE LACE AGATE | $2 | | N/A |
| CARNELIAN | $2 | | |
| CITRINE | $3 | | |
| EMERALD | $8 | | |
| FLUORITE | $2 | | N/A |
| GARNET | $2 | | |
| GOLDSTONE | $2 | | N/A |
| IOLITE ("Water Sapphire") | $5 | | N/A |
| JADE (Nephrite) | $2 | | N/A |
| LAPIS LAZULI | $4 | | |
| LEPIDOLITE | $3 | | N/A |
| MOSS AGATE - green | $2 | | N/A |
| MOONSTONE | $3 | | N/A |
| OPAL - potch & colour | $10 | | |
| PAUA SHELL | $4 | | N/A |
| PERIDOT | $6 | | N/A |
| RHODONITE | $2 | | N/A |
| ROSE QUARTZ | $2 | | |
| RUBY (semi-polished) | $8 | | N/A |
| SNOWFLAKE OBSIDIAN | $2 | | N/A |
| SUNSTONE | $4 | | N/A |
| TIGEREYE - brown | $2 | | N/A |
| TOPAZ - Imperial | $10 | | |
| TOPAZ - blue | $5 | N/A | |
| TOURMALINE - multi | $8 | | N/A |
| TOURMALINE - pink (½ oz) | $10 | | |
| TURQUOISE | $8 | | N/A |

15 yd. Spool - 20 gauge: $6.00
30 yd. Spool - 24 gauge: $6.00
40 yd. Spool - 28 gauge: $6.00

Small
13 mm long
Medium
22 mm long
| Description | Price | Metal | Small | Medium |
| --- | --- | --- | --- | --- |
| TWIN LEAVES - 50 pieces | $3.50 | Gold Plated | | |
| TWIN LEAVES - 50 pieces | $3.50 | Nickel Plated | | |
| TWIN LEAVES - 50 pieces | $4.00 | Gold Plated | | |
| TWIN LEAVES - 50 pieces | $4.00 | Silver Plated | | |

GEM TREE INSTRUCTION BOOK
Wire Tree Sculpture by Bobbie Pearson
This book is out-of-print and it is unlikely that we will get any more in stock.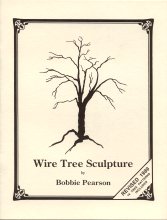 8½ x 11 paperback, 46 pgs: $9.95
In describing her book, the author writes:
This book takes the techniques of wire tree making into the dimensions of fine art. The trees presented here are realistic and sophisticated. Included are the American Elm, Maple, Windswept, classic Bonsai trees and others.
The patterns are written in a new, concise, quick-to-read format. There are numerous photographs and illustrations to help simplify learning.

ORDERING INFORMATION:
You may purchase our gem tree supplies online now using our new secure Shopping Cart!
Sizes and weights are approximate and subject to prior sale.
Quantities are limited.
Prices are subject to change without notice due to changing market conditions.
We reserve the right to correct typographical errors.


MystiCrystals®
5164 Reidsville Rd. #159
Walkertown, NC 27051
Phone: (336) 595-3870
Web site: www.mysticrystals.com
E-mail: mystixls@mysticrystals.com


This page was last updated on 11/16/22 and is a copyright of MystiCrystals®. All rights are reserved.