ABOUT US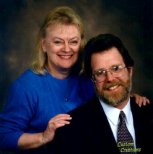 Jean and I established MystiCrystals®, our family owned and operated jewelry company, in 1986, and, from the beginning, we have been dedicating our creative talents to promote a greater awareness and appreciation of the beauty and mystery of the Mineral Kingdom.
Jean earned the acclaimed Graduate Gemologist diploma from the Gemological Institute of America and received a certificate in Master Faceting from Davidson County Community College in 1990.
Jean does custom faceting, creating her own designs using GemCad. She was awarded in 1990 the prestigious Pinnacle Award in Professional Faceting by the American Society of Gemcutters. She also was one of the just 54 members of the American Society of Gemcutters to receive the title of Certified Supreme Master Gemcutter. She and I have been awarded a lifetime membership by the US Faceters Guild for whom she competed internationally in the 1992 Australia Versus USA Faceting Challenge.
Jean and I are also lifetime members of The Greensboro Gem & Mineral Club. We sell our merchandise primarily at Gem & Mineral Shows in the Southeast United States. The various products and services we provide are:

Jean has written some articles which may be helpful to you in selecting faceted gemstones and understanding more about the intricate process of faceting them. To read them, click on the following titles:

MystiCrystals®
5164 Reidsville Rd. #159
Walkertown, NC 27051
Phone: (336) 595-3870
Web site: www.mysticrystals.com
E-mail: mystixls@mysticrystals.com

This page was last updated on 11/16/22 and is a copyright of MystiCrystals®. All rights are reserved.