GEM TREES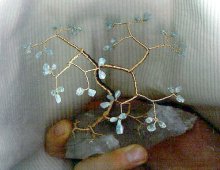 AQUAMARINE BONSAI

click on image for larger view

click on image for larger view

click on image for larger view

click on image for larger view
Amethyst foliage
Amethyst crystal base
SOLD
Emerald foliage
Quartz crystal base
SOLD
Turquoise foliage
Quartz crystal base
SOLD
Imperial Topaz foliage
Quartz crystal base
SOLD

click on image for larger view

click on image for larger view

click on image for larger view

click on image for larger view
Aquamarine foliage
Aquamarine base
SOLD
Sugilite foliage
Quartz crystal base
$42
Golden Topaz foliage
Quartz crystal base
SOLD
Pink Tourmaline foliage
Tourmaline in Lepidolite base
SOLD

We know that you will truly enjoy MystiCrystals® Gem Trees and hope that you
will experience the love and the power that were part of their creation!

ORDERING INFORMATION:
You may now order our gem trees using our new secure Shopping Cart!
Prices are subject to change without notice due to changing market conditions.
We reserve the right to correct typographical errors.


MystiCrystals®
5164 Reidsville Rd. #159
Walkertown, NC 27051
Phone: (336) 595-3870
Web site: www.mysticrystals.com
E-mail: mystixls@mysticrystals.com


This page was last updated on 11/16/22 and is a copyright of MystiCrystals®. All rights are reserved.